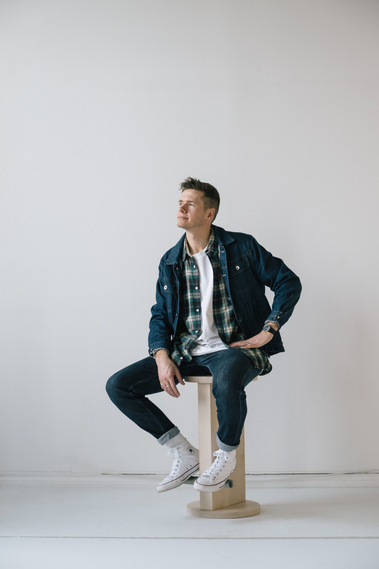 Biography / Biographie

Documentary photographer based in Montreal, Drowster is guided by his calling to document history, whether through revolutions (Lebanon, 2019-2020), wars (Iraq, 2017), cultural events (Half Moon Run at Festival d'été de Québec, 2022) or notable institutions (NASA).
Having visited more than 45 countries before his thirties, including some off the beaten path like North Korea, Iran and Bangladesh, he quickly realized that hatred takes root in ignorance. By picturing humans from all corners of the globe, he hopes to bring them closer together by showing their humanity. According to him, photography has the incredible power to develop empathy and thus create a more understanding, respectful and loving world. His travels inspire him to photograph themes that are dear to him: work and the fight against Islamophobia.
The COVID-19 pandemic combined with a growing climate vocation force Drowster to turn to his native Quebec to tell the stories of its people and territory. Tourism Quebec chose him to become a Bonjour Québec Ambassador in 2023.
In 2021, he published his first book "Travailleurs" (Workers) at Éditions Cardinal, in which he presents a series of portraits of workers taken in 19 countries over a five-year journey. In 2022, he published "Saisons de Montréal" (Seasons of Montreal), a tribute to his hometown and the seasons that constantly transform it.
In addition to his humanitarian photography, Drowster signs all kinds of commercial campaigns in Canada, the United States and Europe with his unique documentary approach. He has collaborated with Red Bull, The North Face, UNESCO, Fonds FTQ, Samsung, Universal Music, OXFAM, France.fr and Infiniti, among others. He is also published in Vogue, The Guardian, Vice, Beside, Urbania, HuffPost and others.
Prints of his images can be purchased at the McCord Museum and on request.
________________

Photographe documentaire basé à Montréal, Drowster se laisse guider par sa vocation de documenter l'histoire, que ce soit au travers de révolutions (Liban, 2019-2020) , guerres (Iraq, 2017), évènements culturels (Half Moon Run au Festival d'été de Québec, 2022) ou institutions notoires (NASA).
Ayant visité plus de 45 pays avant sa trentaine dont certains hors des sentiers battus comme la Corée du Nord, l'Iran et le Bangladesh, il réalise rapidement que la haine prend racine dans l'ignorance. En imageant les humains aux quatre coins du globe, il espère les rapprocher en leur montrant l'humanité des uns et des autres. Selon lui, la photographie a l'incroyable pouvoir de développer l'empathie et d'ainsi créer un monde plus compréhensif, respectueux et aimant. Ses périples l'inspirent à photographier des thématiques qui lui sont chères: le travail et la lutte contre l'islamophobie.
La pandémie de COVID-19 combinée avec une vocation climatique grandissante forcent Drowster à se tourner vers son Québec natal afin d'y raconter les histoires de ses humains et de son territoire. Tourisme Québec le choisit notamment pour devenir Ambassadeur Bonjour Québec en 2023.
En 2021, il publie son premier livre Travailleurs aux Éditions Cardinal dans lequel il présente une série de portraits de travailleurs pris dans 19 pays au fil d'un périple de cinq ans. En 2022, il publie Saisons de Montréal, un hommage à sa ville natale et les saisons qui la transforment sans cesse.
En plus de sa photographie humanitaire, Drowster signe des campagnes commerciales de tout genre au Canada, aux États-Unis et en Europe avec son approche documentaire unique. Il signe notamment des collaborations avec Red Bull, The North Face, UNESCO, Fonds FTQ, Samsung, Universal Music, Infiniti, France.fr et OXFAM, entre autres. Il est également publié dans Vogue, The Guardian, Vice, Beside, Urbania, HuffPost et autres.
Des impressions de ses images peuvent être achetées au Musée McCord ou sur demande.
Solo:
-Portraits des commerçant·e·s de la rue Jean-Talon Est, Terrasse de Léon, 2022
-Win The Day, Nouvelle Vague, 2019
-You Don't Know ME, Ausgang Plaza, 2018
-Drowster & Friends, Artgang, 2016
-Armature Montréalaise, Rack Galerie, 2015


Collaborative:
-Portraits de commerçants & de professionnels de Côte-des-Neiges, SDC Côte des Neiges, Montréal, 2021
-Mémento, Street Dreams Magazine, Off the Hook, Montréal, 2019
-Prix Lux: 100 meilleures images de l'année, Infopresse, Montréal, 2018
-L'hiver, Arc'teryx, Montréal, 2018
-Antithèse, magazine Le Culte, Montréal, 2014